Contents
The film is organized into eight chapters: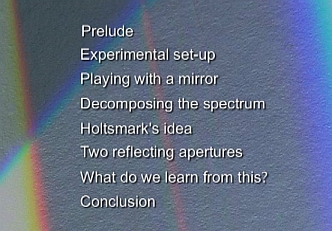 In the following the contents of the chapters is outlined. Click on the respective icon if you have already seen the film and want to go further into the depth of the presentation and the propositions made in it.
Also take a look at the supplement: INVERTED SPECTRA OF MONOCHROMATIC RAYS
---
PRELUDE
---
EXPERIMENTAL SET-UP
---
PLAYING WITH A MIRROR
---
DECOMPOSING THE SPECTRUM
---
HOLTSMARK'S IDEA
---
TWO REFLECTING APERTURES
---
WHAT DO WE LEARN FROM THIS?
---
CONCLUSION
---
FACTS ABOUT THE EXCLUSIVE DVD-EDITION
PSColour\contents-uk.htm per 2010-02-14 updated 2018-05-17