Welcome to Pehr Sallstrom´s page
It is mainly devoted to various aspects of human colour vision. Some articles concern sense perception in general. They may even tentatively touch upon technological as well as epistemological issues.
---
THE ENIGMA OF COLOUR
---
QUERIES AND SUGGESTIONS
---
EDUCATIONAL
---
MISCELLANEOUS
---
Note. I have deliberately used html code without frames, for full flexibility. Hence you are free to choose page width as well as size of the text for most comfortable reading. I suggest about 900 pixels width. If you prefer to print the documents, I suggest that you copy them into Word, where you can take away background pattern, set font size, margins and page breaks so as to get a tidy document.
---
Contact me on pehr@pscolour.eu
About me
:

Have a nice time!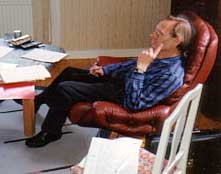 ---
Kan du svenska så finns mer att läsa på min hemsida pehrsallstrom.se
---
This page. english.htm at pscolour.eu original 2010-10-15, latest update 2019-04-29